Why Choose Our Maritime Law Firm?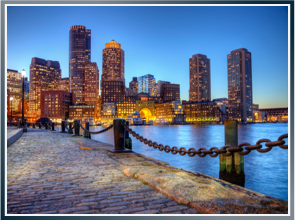 When you get hurt on the water, choosing the right maritime attorneys to represent you is an important decision that can make or break your offshore injury case. You want attorneys who are experienced, tough and compassionate, who can speak on your behalf and who know the court system and the law of the sea, both at home and abroad.
At the maritime law firm of Latti & Anderson LLP, our maritime trial lawyers have more than 50 years representing injured clients from New England and around the country for injuries at sea that happen all over the world.
Through special motions and by teaming up with local counsel, we can appear almost anywhere on behalf of our clients, whether they were hurt fishing on George´s Bank, as a passenger or crew member working on a cruise ship in the Caribbean or at a seaport in Dubai.
More Than 50 Years of Commitment to Clients in Nationwide Maritime Personal Injury and Wrongful Death Accident Cases
Our maritime law firm principal attorneys, Carolyn Latti and David Anderson, form a powerful legal team with two unique perspectives; their male and female dynamic allows them to provide well-rounded counsel to clients by taking into account both of their strengths in all maritime personal injury and wrongful death accident cases.
Our Jones Act lawyers are aggressive and committed to fighting tooth and nail in every case, no matter how big or how small. When our maritime law firm takes a case, we:
Are not afraid to go to trial
Will not back down when fighting for the rights of the injured
Immerse ourselves in every case, because every accident is unique
Learn how the accident happened, how the equipment was operated and the operation procedures
The attorneys at our maritime law firm are dedicated to getting results for clients injured in offshore accidents as well as accidents on land. We also know that these situations do not happen on a schedule. Because of this, our maritime attorneys are always available to their clients during the week and on weekends, if necessary.
---
Our Maritime Law Firm Personal Injury Practice
We focus our practice on maritime law and therefore represent people with injuries that happen at sea and on land. We are experienced maritime injury lawyers who can help those hurt from coast to coast. Our maritime law firm has an expert grasp on what legal rights those injured or killed at sea may have under various laws. These laws include the Jones Act, Longshore Act, maintenance and cure in addition to all the possible recoveries available under admiralty, personal injury and wrongful death laws. Thus, we will explore every possible option to gain the most financial recovery possible for any losses.
In every offshore injury case we handle, our maritime law firm is dedicated to obtaining compensation for our clients, so they can recover as fully as possible. We handle every type of maritime injury and fatal accident that occurs on our near the sea and land, including our past successes representing clients who suffered:
Maritime Law Firm Serving Worldwide Fishing and Shipping Ports
Our maritime practice extends to all the major fishing and shipping ports in the United States, including:
Boston, Massachusetts
New Bedford, Massachusetts
Charleston, South Carolina
New York
Dutch Harbor off of

Amaknak Island in Unalaska, Alaska

New Jersey
Los Angeles, California
Long Beach, California
Miami, Florida
Oakland, California
Seattle, Washington
The Great Lakes – Lake Superior, Lake Michigan, Lake Huron, Lake Erie and Lake Ontario
We can also help those injured in international shipping ports from around the globe, such as :
China
Dubai
Japan
Hong Kong
Oman
Spain
Taiwan
The Philippines
United Arab Emirates
Our work has also covered most of the oceans worldwide, including the :
Adriatic Sea
Aegean Sea
Atlantic Ocean
Baltic Sea
Black Sea
Gulf of Aden
Gulf of Alaska
Gulf of Mexico
Gulf of Oman
Indian Ocean
North Sea
Pacific Ocean
Persian Gulf
Strait of Malacca
---
Past Results from Our Maritime Law Firm
We have obtained numerous successful verdicts and maritime personal injury settlements for our injured clients against major shipping companies and vessel owners. We have battled multinational fishing and shipping corporations such as Maersk Line and Exxon Mobil, as well as small fishing operations and small land-based businesses.
Whatever the size of the company, our maritime law firm has the resources to help our clients receive compensation for their injuries. This includes past and future lost wages, impairment of earning capacity, past and future pain and suffering, past and future mental anguish, past and future medical expenses as well as disfigurement.
If you or a loved one has suffered injuries at sea or if a loved one died in an offshore accident, then our maritime attorneys in Boston will work as hard as possible to get the results you deserve. Contact us today to speak with an experienced maritime attorney about your options for free. Get the compensation you and your family deserve.