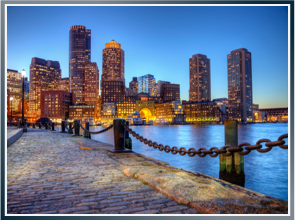 When you experience a maritime injury or wrongful-death incident, you will encounter a unique number of legal challenges. Whether you're facing a small fishing or land-based operation, or fighting against large marine corporations, you need competent legal support to pursue your rights and gain compensation for your injury or loss.
The law firm of Latti & Anderson LLP supports victims of maritime injury, wrongful-death incidents, and other accidents at sea and land. Our firm is here to pursue your injury suit immediately and give your claim the credibility it needs to recover. With proven success and a compassionate style of advocacy in maritime law, Latti & Anderson LLP is proud to serve maritime professionals with the services, skills, and care they need. Our firm is your true north in maritime law.
Why We Are Different
Latti and Anderson LLP is a family firm with generational roots extending nearly 60 years of practice within the admiralty community. Like a compass, Carolyn Latti and Dave Anderson provide a steady legal course and direction to navigate your legal storm. With our mission-driven and empathetic approach to advocacy, your case will move more efficiently toward the best-case solutions you deserve.
Here are just a few other reasons clients choose to work with our firm:
Skilled Trial Lawyers.

It is our mission that in every case, our maritime attorneys advocate for our

clients' rights in the courtroom. We are not afraid to go to trial and will pull out every stop to ensure your case - and your rights - are heard. We do not settle short or back down from trial.

Family Maritime Firm.

At Latti & Anderson LLP, your family is our family. Our firm was built by Michael Latti and is maintained by Carolyn Latti, her brother-in-law David Anderson, and their qualified team. With over 60 years experience, we bring a recovery-focused legal approach to your maritime injury or wrongful-death situation, helping your family heal while pursuing legal resolution.

A Balanced Perspective.

Our firm provides perspectives from legal leaders in the admiralty community. Carolyn Latti, daughter of the founder of the firm, is a past Massachusetts Lawyer of the Year and former Chair of the Admiralty Section for the American Association for Justice. She and Dave Anderson make a formidable team to battle the defense firms who will stop at nothing to deny your recovery throughout this process.

Track Record of Success.

Latti & Anderson LLP has successfully recovered more than 100 million dollars through a respected, tough and compassionate style of advocacy. We are leaders in maritime law.

Recovery-Driven Approach.

Our firm immerses itself in your legal challenges. We will not back down or settle your claim until we have gotten what you and your family deserve.
Who We Serve
Latti & Anderson LLP provides legal care to victims or families of maritime injuries and wrongful-death incidents. We specifically serve fishermen, merchant seamen, workers on tugs, barges and container ships, workers on yachts to passengers on ferries and recreational vessels, among others.  Our maritime attorneys help clients with orthopedic, neurological to psychological injuries to wrongful death.
As a premier maritime law firm, our maritime practice areas extend to all the major fishing and shipping ports in the United States, from the East to West Coast. A sampling of the ports includes:
Alaska

:

Bristol Bay, Juneau and Dutch Harbor

California

: Los Angeles, Long Beach, San Francisco,Oakland and San Diego

Connecticut

: Bridgeport, New Haven and New London

Delaware

: Delaware City and Wilmington

Florida

: Jacksonville, Ft. Lauderdale, Miami and Tampa

The Great Lakes

: Lake Superior, Lake Michigan, Lake Huron, Lake Erie and Lake Ontario

Maine

: Portland, Rockland, Stonington and Vinalhaven

Maryland

: Annapolis, Baltimore and Cambridge

Massachusetts

: New Bedford, Fairhaven,  Gloucester, Boston, Chatham and Provincetown.

New Hampshire

: Portsmouth, Newington, and Rye

New Jersey

: Cape May, Atlantic City, Barnegat Light and Point Pleasant

Oregon:

Astoria, Newport and Portland

Ports of New York and New Jersey

: Jersey, Newark and Red Hook

Ports of Philadelphia

: Philadelphia. Pittsburgh and Erie

Rhode Island

: Providence,  Bristol, Galilee, Newport, Point Judith and Tiverton

Texas

: Houston, Beaumont, Corpus Christi, Texas City and Port Arthur

Virginia

: Hampton, Portsmouth, Newport News and Norfolk

Washington

: Seattle, Tacoma and Port Angeles
When you trust Latti & Anderson LLP with your maritime personal injury case or wrongful-death claim, you can expect only the best. Our attorneys have a track record in successful outcomes with personal injury and wrongful-death claims under the Jones Act, general maritime law, and the Longshore Act. Depending on the law that applies, our firm can help clients receive compensation for their injuries, including past and future lost wages, impairment of earning capacity, past and future pain and suffering, past and future mental anguish, past and future medical expenses, and disfigurement.
Latti & Anderson LLP are specialists in maritime law, providing steady legal direction toward your best-case resolution. Our exceptional team of professionals will dedicate the time, energy, and abilities needed to pursue your case. When you need a partner who will help you navigate the sea of legal issues, let us be the "True North" you need and deserve. We will provide you with some of the best maritime legal services in the nation by a team who have the respect of clients, judges and even our adversaries and opponents. Latti & Anderson LLP will be there for you 24 hours a day, seven days a week. Trust our firm to work for you. 
If you want more information or need to speak to a qualified maritime attorney today, do not hesitate to call on our firm. We'll give you the personalized attention you deserve from the moment you contact us. To begin, give our office a call by phone at 1-800-392-6072.