Join Us At The Commercial Marine Expo Today
We are at the Commercial Marine Expo today, and it is amazing! There are so many wonderful people, exhibits and demonstrations going on—if you are in the area, why not come on down to the State Pier in New Bedford? We will be here until 4 p.m., and all day tomorrow!
As we mentioned last week, you will find commercial vessel owners and operators, Navy and Coast Guard security personnel, commercial fishermen and boat builders of all stripes at the Expo.
Pre-registration is closed, but we will let you in on a little secret—if you go to the Expo's website and download their registration form, you can print it out and present it at the door for free entry!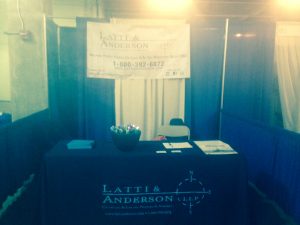 Once you are here, be sure to stop by the Latti & Anderson booth for a calendar or a flashlight pen. And while you are here, pick up some information about maritime law and how we can help you if you have suffered injuries at sea—regardless of whether you were hurt on a tanker, a vessel, a fishing boat or a cruise ship or recreational boat.
Our commitment, experience and knowledge of the complexities of maritime law are what sets Latti & Anderson LLP apart from other maritime law firms. We temper the aggression needed to persuade a judge and jury that the law is in your favor with the compassion and care you need during a difficult time. We care deeply for our clients and thoroughly understand the law. We provide tough, intelligent and decisive representation when you need it most.