Hurt in a Cargo Ship Accident?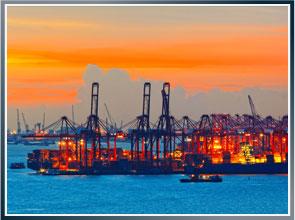 Jones Act Attorneys on Safety and Maritime Law
Cargo ships are essential to the global economy. They transport goods like fuel, food and consumer items all across the world. However, if boat owners or shipping companies neglect safety procedures or fail to ensure the vessel is seaworthy, working on a cargo ship can be dangerous. Improperly secured containers or products may shift, resulting in catastrophic injuries like amputations or even wrongful death. In addition, a poorly maintained vessel may be prone to explosions, mechanical malfunctions and capsizing.
Our Jones Act attorneys understand how devastating a cargo ship accident is to your health and you career. Although maritime laws do include protections for injured maritime workers, big shipping companies often try to deny injury claims or offer low settlements. Our team of lawyers and investigators can help you stand up for your rights or the rights of a loved one. In the past, we have obtained multi-million dollar verdicts and settlements for maritime workers hurt on cargo ships and other seagoing vessels. We never back down from a fight and will aggressively argue your case in the courtroom when necessary.
What are the Most Common Cargo Ship Accident Injuries?
One of the unique dangers on a cargo ship is the failure to provide the proper guidelines and instructions on how to perform operations. The most common injures caused by sliding cargo include:
Additionally, burn injuries and other accidents may result from improper ship maintenance. Any of these injuries could result in lifelong conditions or disabilities that may prevent you from returning to work.
The International Safety Management Code (ISM) includes regulations intended to prevent serious cargo ship accidents at sea. However, shipping companies may neglect ISM requirements in the interest of making a profit. If you are hurt on a vessel that is not in compliance with the ISM Code, then our Jones Act attorneys can help.
What Happens if I Am Hurt in a Cargo Ship Accident Overseas?
Cargo ships spend a lot of time in international waters and docked at ports in other countries. However, even if your injury occurs in a foreign port, depending on certain factors you are probably still eligible to bring a claim under the the Jones Act, general maritime law for unseaworthiness and maintenance and cure. This federal law applies to your case if the following main factors are met:
You are a seaman (meaning you spend more than 30 percent of your working time aboard the vessel)
You "must contribute to the function of the vessel or to the accomplishment of its mission" and the seaman "must have a connection to a vessel in navigation(or to an identifiable group of such vessels) that is substantial in terms of both its duration and its nature
Your injury resulted from your performing your job
You got hurt on navigable water
Under general maritime law you are entitled to maintenance and cure benefits from your employer. This means that your employer must pay a daily stipend based on your basic living expenses as well as your medical expenses. This often includes the cost of medication, therapies and specialist treatments. If you receive medical help while in a foreign port, maritime liability laws can be confusing. However, our Jones Act attorneys can help sort through these legal complexities and get you the compensation you deserve.
If your loved one suffered wrongful death as a result of a cargo ship accident, the Death on the High Seas Act may apply to your case. This act allows you to seek compensation for lost income and other damages. While money cannot make up for the loss of someone you love, it can help relieve your financial burdens.
Injured on a Cargo Ship? Contact Our Jones Act Attorneys Today
No matter where your cargo ship accident occurred, our Jones Act attorneys can help ensure that you get the benefits you deserve. Big shipping companies often try to intimidate or ignore injured maritime workers. We can help you fight back. Contact our maritime law firm online or call our offices to schedule a free consultation.