Jones Act Attorneys Protecting Tug and Barge Workers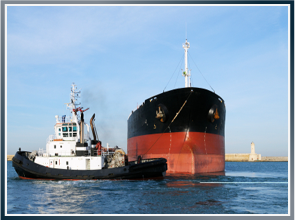 Tugboats push and pull barges, whether near shore, on inland waters such as rivers and the Great Lakes, or major ports on the East and West coasts from Portland, Maine, Boston, New York City, Baltimore and Tampa to Oakland and Seattle. Workers on either a tug or a barge can suffer serious injury from a moving line or if a line breaks.When crewmembers fail to close hatches properly, or when the owner or operator fails to maintain safe equipment, injured workers may be eligible to file lawsuits under the Jones Act and general maritime law for unseaworthiness to obtain compensation for their injuries sustained in barge and tug accidents.The Jones Act and other federal maritime laws are available to injured tug and barge workers to help them support their families and pay their medical bills after an accident.
Dangers on Tugs and Barges
Tugboat workers and barge workers can be confronted with dangerous situations, including:
Frayed and weak lines that part
Tow lines that are improperly lead that cause serious injury
Fatigue caused by long hours, bad weather, and inadequate staffing
Leaks on deck from engine lubricants or barge cargo causing slippery surfaces
Collisions with dock, shore, or sandbars and other hazards in the water
Improper procedures for setting out and securing lines of tug, barge and vessel towing
Handling heavy lines
Lack of safety procedures and equipment
Many times, the aforementioned conditions lead to injuries and claims of negligence and unseaworthiness. Barge and tug accidents are usually preventable, as following safety precautions and adhering to safety regulations can prevent most of the situations that give rise to such accidents. Safety training, adequate staffing, proper maintenance and investment in tools and equipment could prevent many injuries and wrongful deaths on a tug or barge.
However, if the owner or employer does not take necessary safety precautions, any workers injured in an tug or barge accident might be able to seek compensation from the owner, including maintenance and cure during recovery. Additionally, the victims would be entitled to damages for past and future lost wages, impairment of earning capacity if unable to return to sea, past and future pain and suffering and mental anguish and future medical treatment.
Contact Our Experienced Maritime Attorneys
The maritime and Jones Act lawyers at Latti & Anderson LLP have been helping those injured at sea and on land for over 50 years. We can help injured tug and barge workers obtain compensation for their injuries, including maintenance and cure from their employers while they heal to go back to work. If you have suffered an injury because of a barge or tug accident, contact our lawyers right away to learn about your rights. We represent clients nationwide for accidents occurring around the globe. Call today to tell us about your case.