Trust Admiralty and Maritime Attorneys for Admiralty and Maritime Cases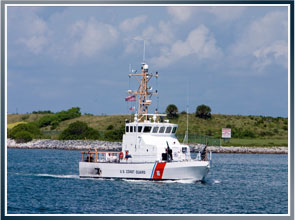 Admiralty law, also known as maritime law, is a body of U.S. federal law that governs what happens when people do business and get hurt at sea or while working in a maritime capacity. Maritime and admiralty law is a very specialized area of law, and only attorneys who focus their practice on maritime law truly understand it.When a person suffers a personal injury on land, such as in a car accident or a slip and fall accident at a store, the victim should seek legal counsel from a qualified personal injury attorney. When a person works at sea, such as a merchant seaman or a commercial fisherman, or plays at sea, such as a recreational boater or a passenger on a cruise ship or a whale watch, the laws are different. Maritime injury laws are entirely separate and distinct from the laws that cover injuries on land.
Every case dealing with admiralty law is different, and the law that will apply to your accident depends on the details surrounding it. Injured seamen and the families of those killed at sea have rights and may be eligible to receive compensation and/or benefits under a number of different laws, regulations and doctrines, including:
Suits in Admiralty Act
Public Vessels Act
Death on the High Seas Act
We Fight for Maine Fishermen Injured On the Job
The commercial fisheries in Maine rank third nationally in overall value. A large portion of that value comes from the $334 million in lobster coming through Rockland, Camden and other ports along the coast of Maine. According to the Maine Department of Marine Resources, there are 7,266 active commercial fishermen in Maine; of those, 4,288 are active commercial lobster harvesters. Portland is home to the largest groundfishing fleet in Maine. These vessels bring in tuna, poagies, mackerel, herring, cod, haddock, halibut and many other species of valuable fish.
We serve all of Maine's ports, including:
Port of Searsport
Port of Portland
Port Clyde
Port of Bucksport
Bath Harbor
Port of Rockland
Port of Camden
North Haven Harbor
Boothbay Harbor
History of Successful Cases for Massachusetts Fishermen
Massachusetts' economy has always been intrinsically tied to its sea life. The first product of American industry exported from Massachusetts was a cargo of fish, according to The Herald News. As recently as 2011, the National Oceanic and Atmospheric Administration reported that the state was second in the nation (just behind Alaska) with $433 million in commercial fishing revenue.
Our admiralty law and Jones Act lawyers are proud to serve the ports of Massachusetts, including:
New Bedford
Gloucester Harbor
Boston
Plymouth
Provincetown/Chatham
Falmouth Harbor
Hyannis Nantucket
Fall River
Salem
Rockport Harbor
Maritime Attorneys In or Around New Bedford, Massachusetts
Known for its many types of fish, ranging from haddock, cod, swordfish, clams as well as its scallops, New Bedford is home to the highest grossing fishing port in the United States. The economy is largely supported by commercial fishermen, who are part of a $1 billion a year fishing industry. According to the New Bedford Harbor Development Commission, as much as 50 million pounds of scallops alone come out of the sea and through New Bedford's docks every year.
Find a Jones Act Lawyer in New Hampshire
With a coast that is only 18 miles long, it is hard to believe that New Hampshire fishery has been an industry for the past 400 years. What the waterways of New Hampshire lack in size, they more than make up for in potency. Even dating back to colonial times, fishing has always been a part of the state's industry. Headlined by Great Bay and Hampton-Seabrook, the fishing grounds of New Hampshire are very strong, landing commercial fishers 6,400 tons and 30 different species of fish with an economic value of $17.3 million as recently as 2009, according to NH Sustainable Marine Fisheries.
We serve all of New Hampshire's ports, including but not limited to:
Hampton Harbor
Portsmouth
Seabrook Harbor
Rye Harbor
Legal Representation for New Jersey Maritime Workers
Cape May, the sixth largest port in the country, is the largest port in New Jersey. This area, including Point Pleasant, has been known for fishing since the Lenape Indians used it for that purpose in the early 1600s. These days, more than 100 species of shellfish and finfish are brought in to commercial fisheries in New Jersey. Economically, the most important of these are clams, scallops, menhaden, squid, blue crab, flounder, herring and lobster. The "Coastal Zone" sector of the state's economy is a $50 billion-a-year industry that employs a considerable portion of New Jersey's workforce.
Lawyers That Handle Accidents at Sea for Rhode Island Fishermen
Rhode Island is geographically located in a prime location to bring in a broad range of groundfish and shellfish species. Inshore and offshore lobster harvesting as well as fishing for cod, herring, swordfish, halibut and tuna keeps commercial fishermen busy year-round. According to the National Marine Fisheries Service, Rhode Island netted $75,539,565 in commercial fishing revenue in 2011.
Latti & Anderson LLP serves all of Rhode Island's ports, including:
Port of Galilee
Port of Providence
Port of Newport
Point Judith
North Kingston
Port of Melville
Bristol Harbor
Our Nation Depends on the Fishing Industry - We Can Help After Maritime Accidents
If you are injured, the best course of action is to contact a law firm skilled in admiralty law, with a practice dedicated to defending the rights of maritime workers. Our Jones Act lawyers have more than 50 years of experience in the practice of admiralty law and are dedicated to helping injured maritime workers.
We have brought claims against the top fishing companies and boat owners, from Carlos Rafael, Warren Alexander, Eastern Fisheries, K&K Fishing Corp, Atlantic Fisheries to Albi Fishing Corp. We will review your case and make a recommendation as to what steps you should take next. Contact our maritime trial lawyers to set up a free, confidential consultation so that you can tell us about your case. We serve clients nationwide – call today.