What is the "Safer Seas Digest" and How Can It Help You Offshore?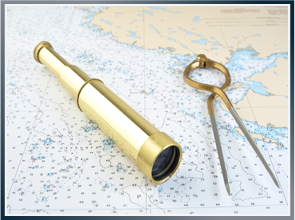 Last month, we wrote a blog on the top three lessons the U.S. National Transportation Safety Board (NTSB) had learned from its annual report on maritime accidents. The 72-page report looked at 29 major maritime accidents. Since then, the NTSB has released its annual "Safer Seas Digest," which crewmembers can use in training and safety meetings.
Similar to its annual report, it lists the top lessons learned from last year's maritime accidents, such as crewmember fatigue, voyage planning and communication. It also includes the following important safety lessons that all crewmembers should review before heading out to sea:
Alarms and navigation alerts – Alarms are effective tools to ensure crewmembers are alert and vigilant while they are watchstanding. Alarms can set to ring at certain intervals, proximity, GPS or radar indicators. Employers should implement written procedures for each alarm use and ensure watchstanders are familiar with each function.
Written procedures and training – When an emergency occurs and a crewmember fails to react properly to prevent, mitigate or deescalate the situation, the error can often be traced back to a lack of written procedures or training. Ship-specific emergency procedures must be written down in detail and drilled into each crewmembers' memory should the worst happen.
Fishing vessel stability – The NTSB discovered several years ago that many fishermen may not understand or know how to apply the principles of stability. All commercial fishing vessel owners must train and prove they understand vessel stability and subdivision.
Watertight integrity – Maximizing the watertight integrity of any vessel is necessary for stability and buoyancy should a maritime accident occur. For example, employers and operators should know if a breach is made to the hull, all other operations should halt until that breach is assessed and repaired. Lock-out/tag-out programs are important for systems that discharge or source from the water. Additionally, watertight doors should remain closed at all times while the vessel is operating, unless a crewmember is passing through.
Abandon ship procedures – Crewmembers should always wear personal protective equipment (PPE) while a vessel under way and personal flotation devices when abandoning ship.
Latti & Anderson LLP is a maritime injury law firm that helps those injured on the water. We have offices in New Bedford and Boston, MA, but help those hurt in maritime accidents nationwide.
Source: http://gcaptain.com/the-top-8-reasons-ships-sank-spilled-oil-and-exploded-in-2015/