Safety Improvements All Oil Barge Operators Should Make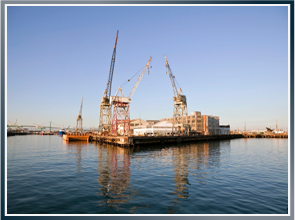 Due to the fact more oil is produced and shipped out of the U.S. in these past few years, a recent concern was brought forth by the Congressional Research Service last month. The sudden change in how the nation ships oil has left little time to analyze the safety of oil barges and tankers.
Currently, two facilities transport crude oil to other U.S. facilities by ship. The Anacortes, Washington oil refinery receives its oil from Alaska, while the Clatskanie, Oregon oil terminal receives crude oil from trains that pick up the oil from barges at the Columbia River. The report mainly lays blame with the U.S. Coast Guard: however, it is safe to say barge owners and operators are primarily responsible for workplace safety.
Regulations on Barge Worker Safety Falls Short
According to the report, oil barges used to transport oil by rivers are not held to the same safety standards as ships. Congress gave directives to the U.S. Coast Guard in 2014 to run barge inspections and issue certifications, similar to the certificates ships receive when they pass safety regulations. A lack of inspection puts crewmembers at risk for faulty equipment and other hazards. This loosely enforced directive needs to be a regulation better followed by barge operators and better policed by the Coast Guard.
Currently, the safety standards for barge crew members are not concrete, particularly with sleep regulations. According to the Congressional Research Service, crewmembers are scheduled for six hours of work, then six hours of rest. The report found that eventually, a sleep debt accumulates and thus increases worker fatigue. Rather, operators should implement rules to require workers to get eight hours of rest to avoid exhaustion and the increased likelihood of offshore accidents.
It is Up to Barge Operators to Provide a Safe Working Environment
Although Congress is concerned with how slowly the Coast Guard has been to implement safety mandates protecting oil barge workers, it is also, in large part, the responsibility of operators to ensure their barge workers have a safe working environment. Barge injuries can be entirely preventable if operators provide better staffing, more frequent maintenance and proper safety training.
According to maritime trial lawyer David Anderson, barge workers involved in any accidents must first and foremost seek medical attention. After proper medical help, contact an attorney for a consultation. Even if you believe you may not require an attorney to file a claim, it is always a good idea to set up a free consultation to assess your rights in the situation.
David Anderson is a maritime attorney with Latti & Anderson LLP who helps barge workers and other victims who are injured at sea.
Source: http://www.opb.org/news/article/5-safety-issues-with-shipping-oil-by-water/