How Was a Barge Worker Pinned Under a Crane?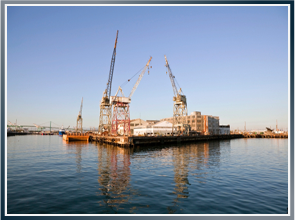 Some of the largest cranes in the world can weigh as much as 78 space shuttles and stand four times as tall as the Statue of Liberty, according to Engineering News-Record.
While the crane involved in a recent accident is not nearly as large as the ones described above, it still managed to do quite a bit of damage, including critically injuring a man working on a barge.
According to WMAQ-TV, the incident happened on the Fox River in Illinois and involved a crane and barge being used as part of the Fox River reconstruction project. The worker who was injured was working on the barge, which was located below an Interstate 90 bridge that spans the river, when the incident occurred.
Reportedly, part of the crane gave way and hit the worker on the barge. After being hit by the crane component, which weighed several thousand pounds, the man became pinned underneath it.
"There was an equipment failure," said Elgin Fire Department Chief Tim Michaels. "The crane came apart and collapsed and he was hurt pretty seriously."
I Need a Maritime Trial Lawyer
Maritime law is very complex, even for attorneys, if they do not practice it regularly. Due to that fact, following a barge accident or any other type of on-the-water injury, it is critical that victims talk to a qualified and experienced maritime attorney, even if they do not plan to hire one.
A maritime attorney can help victims understand what they'll be facing and what is the best way to proceed, and many experienced maritime trial lawyers will speak with accident victims and their families for free and confidentially.
Latti & Anderson LLP – Nationwide Maritime Attorneys
Source: http://www.nbcchicago.com/news/local/Worker-Critically-Injured-at-I-90-Bridge-Project-284398211.html