Why is This Deckhand Suing a Marine Towing Company?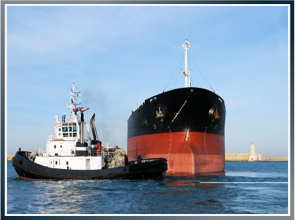 Recently, Latti & Anderson LLP resolved a case against a tug company and its owner where the crew member was on deck, helping feed out the line from the line box when the next thing the crew member heard was a loud pop and he was thrown numerous feet back on the stern on the tug.    The crew member sustained disabling injuries where he was unable to work for over a year and a half.  The Plaintiff was able to return back to work; however, the issue arose whether in 10-15 years due to his injuries he would be able to continue marine employment.
A lawsuit was brought against the owner and operator of the tug for failing to provide a safe place to work and an unseaworthy vessel.  Specifically, a line that parts is a classic example of a piece of equipment that is not fit for its intended purpose and is unseaworthy.  Negligence focused on the failure to properly rig the line causing excessive force and pressure and the failure to use the proper type of line. Damages alleged were for past and future pain and suffering and past and future lost wages. The case settled for over $500,000.00
Towing Companies Have a Duty to Provide Safe Work Environments
Going to work should be safe no matter what your occupation is. The high horsepower on tugboats and river tows, as well as the use of winches, drums, large towing lines and slippery surfaces can present a safety hazard, but only if the proper steps are not taken to protect workers. For the most part, accidents that happen on tugs and barges are entirely preventable, as long as the operator is complying with standard safety regulations. Additionally, tow operators have a duty to:
Provide proper training to all crewmembers
Make sure the tug and all the equipment is properly maintained
Make sure the vessel is seaworthy
Properly staff, as accident can occur when towboats are shorthanded
Invest in the equipment and tools necessary to operate safely
If these precautions are not taken, any injured deckhand or crewmember may be able to seek compensation if they sustain an injury. This includes maintenance and cure during their recovery process. Towboat injury victims may also be able to collect damages for lost wages, future pain and suffering, mental anguish and, if they are unable to return to work, impairment of earning capacity.
Latti & Anderson LLP is a maritime injury law firm that helps towboat injury victims across the nation.