Vessel Cooks and Stewards
Injured While Working As A Vessel Cook Or Steward?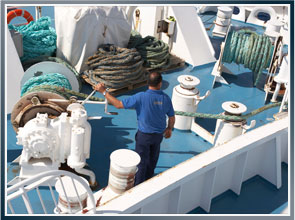 Find Experienced Jones Act Attorneys Near Me Handling Crew Member Injury Claims
A well-fed crew is a happy crew, as they say. Vessel cooks and stewards perform some of the most essential functions to keeping a ship running. Whether out to sea or anchored, the vessel cook's job is never done. All ship owners, whether they are large corporations or small fishing operations, have an obligation to provide a safe working environment for vessel cooks and stewards so that they are able to support the operations of the ship.
If a ship owner fails to ensure that the kitchen is safe, serious injuries can occur for both the vessel cook and the maritime workers aboard.
The Jones Act does not just cover commercial fishermen; its protection extends to all crew members that support the ship's purpose, including vessel cooks and stewards. If you work on a ship and sustained an injury, contact the nationwide maritime law firm of Latti & Anderson LLP in Massachusetts today. Our Jones Act attorneys fight for victims of crew member injury and their families across the United States and internationally, making sure they receive the support they need to recover.
We have a record of success when it comes to cases involving vessel cooks and stewards. In one of our cases in Boston, we represented a ship's cook who suffered hearing loss as a result of exposure to excessive noise. We were able to help him get $475 thousand in settlement money for his injury.
Maritime Work Injury Lawyer on Common Vessel Cook Injuries
A vessel cook's main duties are in a galley, but that does not mean that they are safe from any crew member injuries resulting from a poorly maintained ship. Vessel cooks and stewards are vulnerable to:
Slips and falls in the galley
Gangway falls
Electrical shock
Back injuries due to excessive lifting without proper equipment
Burns from malfunctioning equipment in galley
Amputations
Hearing loss
With decades of experience focusing in upholding the rights of workers under maritime injury law, we are dedicated to fighting on your behalf against the negligent employer that caused your injuries.
Getting Injury Compensation for Vessel Cooks and Stewards Injured at Sea
An injured vessel cook or steward may be entitled to compensatory damages in order to assist with the medical costs of treating his or her injuries, in addition to past and future rehabilitation costs and the loss of income resulting from their wounds. If they experienced a wrongful maritime death, their family may be able to pursue damages to pay for funeral costs and loss of support as a result of the death of their loved one.
Our maritime attorneys serve injured maritime workers all across the nation, from east to west coast fishing ports, as well as those involved in gulf coast commercial fishing. We have over 50 years of experience in fighting both large corporations and small operations for acts of negligence, such as:
Dangerous conditions and procedures
Lack of safety equipment and training
Lack of non-skid surface in galley
Unsafe operations
Contact Our Experienced Jones Act Attorneys in Massachusetts for Experienced Nationwide Representation
If you were hurt while working as a vessel cook or steward, it is essential that you have experienced Jones Act attorneys on your side. Our maritime trial lawyers, with offices in Boston and New Bedford Massachusetts, are prepared to help you fight against the company or boat owner that contributed to your injury.
We have more than 50 years of experience with helping people nationwide after maritime accidents. Additionally, our attorneys take most injury cases on a contingency basis, which means you pay nothing upfront and only pay attorney fees if we successfully gain compensation on your behalf. Call at 800-392-6072 for a free case evaluation. Take the first step towards getting the compensation you need to get your life back together.