Have You Seen the New Bedford Fishing Monument?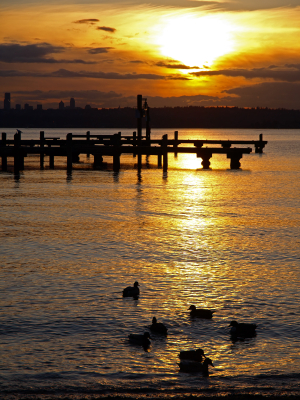 On June 30th, City Pier 3 at 228 MacArthur Drive in New Bedford received a permanent fixture on the waterfront. The Fishermen's Tribute Monument, which was unveiled at Tonnessen Park, has been completed and placed to honor all the "men and women—past, present and future—within the fishing industry, especially those who have lost their lives in pursuit of their profession." This bronze tribute to generations of both commercial fishermen and their families is particularly meaningful to the community, as New Bedford is the number one fishing port in the country.
The statue shows a fisherman down on one knee, handing his hat to his son while his daughter clings to his shirt and his wife looks on. The passing of the fisherman's hat to his son is symbolic of continuing the fishing tradition, while the daughter represents the regret felt in separation. It is not clear if the fisherman is returning from a trip at sea or departing on one. However, the sculptor, Erik Durant, says this was deliberate because in either case, the scene is the same. Durant went on to say he feels his sculpture is one that different families are going to relate to.
The New Bedford Fishermen's Tribute Monument Honors Fishermen of the Past, Present and Future
Since 2004, the Fishermen's Tribute Fund has been in negotiations with the city of New Bedford, Massachusetts, to complete the monument. The Fishermen's Tribute Fund worked to raise the $120,000 necessary to complete this project for more than a decade.
The maritime attorneys at Latti & Anderson LLP are thrilled to see this monument created to honor the commercial fishermen within this community. Our firm has supported this organization through the years and is proud there is now a memorial that represents all who have been lost at sea.
Source: http://www.bostonherald.com/news/local_coverage/2016/06/new_bedford_to_celebrate_fishermens_tribute_monument