Loss From a Fishing Accident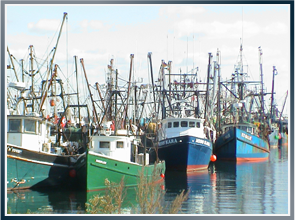 Our Maritime Trial Lawyers Can Help
Commercial fishermen suffer serious injuries and death with tragic regularity. At the law firm of Latti & Anderson LLP, our maritime trial lawyers help fishermen obtain compensation for fishing accidents and injuries, as well as filing wrongful death claims for families whose loved ones died at sea.
Physical well-being means everything to a fisherman, who must spend hours performing physically demanding work in order to make the money they need to support their families.
If a fisherman is injured in a fishing accident, he has the right to obtain compensation for injuries to make up for his lost ability to work and for the pain and suffering he endured.
Repercussions of Injury
Being a fisherman is a very hard, physically intensive job. You need to be able to move quickly and work long hours during the season. An injury can lead to multiple difficulties. You may be unable to return to work after an accident. Your employer could be unsympathetic to your situation. There is also a risk that the insurance company may stop paying you maintenance and cure before you have reached maximum medical recovery and you have no one to pay for your medical treatment.
Serving All Commercial Fishing Occupations
Our attorneys have helped thousands of commercial fishermen involved in fishing accidents on the job. Our Jones Act lawyers have filed claims on behalf of clients in all kinds of fishing industry occupations from groundfishing, netting, fish trapping, clamming, lobstering and shrimping to scalloping, including:
Captains
Mates
Engineers
Deckhands
Fish processors
Lumpers
Clients and Injuries of All Types
Our clients come to us from all types of fishing vessels, including draggers, scallopers, clamming vessels, in and offshore lobster boats, crab boats, seiners, gillnetters, trawlers, long liners, trollers and processing vessels. They have suffered injuries from a variety of equipment, such as winches, scallop dredges, net drums, doors, gallust frames, blocks and lines.
Injuries caused by poor equipment maintenance, lack of proper equipment procedures, lack of proper safety procedures, failure to follow correct procedures and lack of proper safety equipment, as well as injuries from assault on board are all deserving of compensation.
Injuries Are Not Inevitable
Commercial fishing is a high-pressure environment working on a vessel dealing with the elements of the sea. When an accident happens, your employer, the owner of the vessel and its insurer will either say it was an act of god, just an accident or your fault when the cause of the accident is negligence and unseaworthiness.
Our Jones Act attorneys have been able to obtain full maintenance and cure for many injured commercial fishing employees hurt in fishing boat accidents. Whether through a trial or settlement where we have proved that the employer was negligent or the vessel was unseaworthy, we have secured past and future lost wages, compensation for impairment of earning capacity, and damages for pain and suffering, mental anguish and physical disfigurement.
Lawyers Who Handle Fishing Accident Cases Nationwide
Commercial fishing companies have substantial resources to hire legal counsel against you. As soon as your accident happened, it was reported to the United States Coast Guard and the insurance company for the vessel. When the vessel returned to port, the employer, owner and/or insurance company was on board the vessel taking statements from crew members and investigating the accident scene, from taking photographs to fixing or repairing the cause of the accident.
If you have been injured, it is important that you act as quickly as possible using the best legal counsel at your disposal. We have been representing commercial fishermen nationwide for over 50 years. Our firm has an in-house investigator who has deep roots in a fishing community and can start his own investigation into the details of your accident. Contact our maritime attorneys today so we can put our experience to work for you.