How is the Crab Fishing Fleet from "Deadliest Catch" Improving on Safety?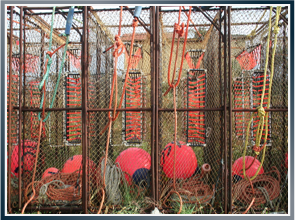 Fans of the hit Discovery channel show "Deadliest Catch" know that the Bering Sea/Aleutian Island crab fleet was once the most hazardous commercial fishery in the world. However, thanks to an increased emphasis on safety since the 1990s, fatal maritime accidents and injury cases have dropped in this particular industry.
What Safety Measures Have Helped Reduce Fatalities for the "Deadliest Catch" Crew?
Between 2005 and 2013, records from the National Institute for Occupational Safety and Health (NIOSH) showed 65 injuries reported to the Coast Guard by the crab fleet, only one of which was fatal. These records stand in stark contrast to the records from the 1990s, which showed 73 crewmember deaths from boating disasters, falling overboard and onboard injuries.
What led to this dramatic reduction of deaths for the crab fleet? A few things, according to the authors of the NIOSH report. Firstly, in 1999, the U.S. Coast Guard created the "At-the-Dock Stability and Safety Compliance Check" program, which instituted Coast Guard-led checks on crab vessels departing Dutch Harbor. Next, in 2005 the fleet shifted to a quota-based fishing system that extended the fishing season and led to smaller crab pot loads, which helped keep anglers alert and rested. Finally, the fishing fleet consolidated ships and crews down from 243 vessels to 78 vessels by 2010.
The efforts of the Coast Guard and the shift away from large loads and competitions between vessel crews has contributed to this stark decrease in deaths. We are pleased to see improvements made to this industry that helps bring our seafarers back safely.
Latti & Anderson LLP is a maritime injury law firm that fights for victims of commercial fishing accidents.