Safety Tips to Prevent and Fight Fishing Boat Fires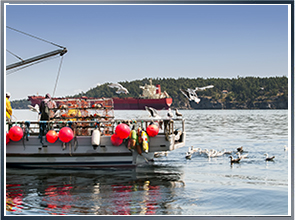 One of the last places you want to be when a fire breaks out is confined to a boat. You could become trapped, have to abandon ship or be the victim of an explosion if the fire reaches your vessel's fuel supply. Therefore, for anyone who spends much time on the water, whether for business or pleasure, learning how to prevent and fight boat fires is extremely important.
How to Prevent a Fishing Boat Fire
Sport Fishing magazine published a few tips for fighting and preventing fires on boats:
Add Breakers and Fuses – Fuses and breakers add an extra layer of protection to help lower the risk of an electrical fire. These devices absorb power surges and cut circuits to prevent fires from resulting due to electrical problems. Make sure that you have breakers and fuses installed on your boat.
Trust Your Nose – If something smells odd, such as chemical fumes or overheating electrical equipment, investigate it immediately.
Inspect Hoses and Tanks – To avoid flammable liquids or gases leaking onto your boat, inspect the hoses and tanks on your vessel at least once every six months or have a certified marine technician do it.
Keep External Heat to a Minimum – Limiting the number of external heat sources, like lighters or cigarettes, on your boats limits the risk that one could cause a fire.
Find and Repair Corrosion on Connections – This can especially be an issue on boats that are used on saltwater. The saltwater air can lead to corrosion on the vessel's electrical components. This can cause shorts or overheating, which can lead to fires. Therefore, check your electrical system for corrosion on wires, terminals and connections every six months. If you do not feel comfortable checking, have a qualified professional check for you.
Add Access Ports – Make sure you have a port that provides easy access to your boat's enclosed spaces, such as the electrical system, in case there's a fire and you need to quickly spray the area with a fire extinguisher.
Make Sure You Have Enough Fire Extinguishers – The rules for the number of fire extinguishers boats must carry varies depending on the size of the vessel. In addition, whether the boat has a fixed fire-suppression device installed can change the fire extinguisher requirements. In general, if a boat is less than 26 feet long, it must have at least one Type B-I fire extinguisher onboard. Boats that are between 26 and 40 feet long, must carry either two B-I extinguishers or one B-II fire extinguisher. Vessels longer than 40 feet in length need either three B-I extinguishers or one B-I and one B-II extinguisher. All fire extinguishers carried on boats must be US Coast Guard-approved.
We have more boating safety tips available on our website. Our firm helps people hurt on the water and their families to get the assistance they need. We have offices in Boston and New Bedford, MA, but our maritime attorneys accept cases nationwide.