Container Ship Accidents and Injuries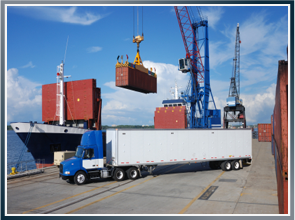 Jones Act Lawyers Explain Your Options After a Cargo Ship Accident
Container ships are among the most common types of cargo vessels on the water. They transport a wide variety of goods between shipping ports in large, rectangular metal containers. These containers have simplified the shipping industry and made it easier to transport more cargo on a single ship. However, these containers have also introduced new hazards to the industry, particularly due to their large size and weight. As a result, container ship accidents often cause serious personal injuries and wrongful death for both seamen and dock workers.
Shipping companies have a responsibility to keep their workers safe while transporting goods on a container vessel. When these companies neglect this duty, injured maritime and dock workers can hold their employers accountable for any resulting injuries. At Latti & Anderson LLP, our Jones Act lawyers have over 50 years of experience investigating and litigating cargo ship accident claims nationwide.
Common Causes of Maritime Injury Aboard Container Ships
Like most wrecks at sea, container ship accidents usually result from negligence. When a shipping company fails to enforce safety standards or neglects routine maintenance, a container ship may experience a maritime accident. Common causes of injury aboard container ships include:
What Happens If I Was Hurt Loading or Unloading a Container Ship?
Longshoremen and other dock workers are particularly susceptible to cargo ship accident injuries during the loading and unloading of container vessels. Crushed and amputated limbs, as well as brain and spine injuries and wrongful death, are all serious possibilities for dock workers if something goes wrong while moving shipping containers. However, if you are hurt on the docks due to container ship negligence, you do have options. Depending on your job, you may be entitled to compensation under one of these laws:
The Jones Act. If your employer is the ship owner and you primarily work on a seagoing vessel, the Jones Act will likely cover your injuries and expenses. Even if your injuries resulted from an accident on land, the Jones Act may apply to your case.
The Longshore and Harbor Workers' Compensation Act (LHWCA). This federal law guarantees compensation for maritime workers who work primarily on land. Like workers comp, the LHWCA provides compensation for medical bills and lost wages regardless of fault in dock accidents.
State Workers Comp Laws. Depending on your employer and profession, your state's workers comp laws may entitle you to compensation. We work with clients nationwide, so we can help you determine what laws apply.
Whether you are a longshoreman or a maritime worker on a container ship, collecting your rightful compensation from shipping companies can be difficult. A qualified team of Jones Act lawyers can give you legal advice and represent your claim. Since maritime law is notoriously complex, having experienced legal counsel on your side during a cargo ship accident claim dramatically increases your chances of success.
Injured in a Cargo Ship Accident? Call Our Jones Act Lawyers for Help Nationwide
If you have questions about your rights after a cargo ship accident, contact the Jones Act lawyers from Latti & Anderson LLP. We have more than 50 years of experience assisting cargo ship workers and longshoremen to obtain compensation for all types of work injuries. We can investigate your accident to hold the shipping companies accountable for their negligence.
Our lawyers represent maritime accident cases nationwide, and we have a record of success across the U.S. Contact our maritime injury attorneys today to schedule a free consultation.