Hurt In a Dredging Accident?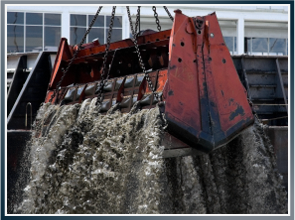 Help From Maritime Attorneys
Dredging helps keep America´s waterways navigable. From the expansion of existing waterways and harbors to preserving beaches, dredging operations may take place in any body of water. The work performed on dredge vessels is a vital part of many construction and environmental projects. Unfortunately, these operations often put maritime workers at risk.The maritime attorneys at Latti & Anderson LLP are familiar with the Jones Act and other federal laws that apply to dredge workers. With years of proven experience, our maritime and Jones Act lawyers understand how federal maritime laws can protect you.
What Is Dredging?
A dredge is a vessel equipped with a device that scrapes or sucks the seabed to gather up sediments and soil. Dredging operations take place in shallow seas or inland waters and expand existing channels and harbors, allowing large ships to pass as well as leveling the seabed to make room for construction projects. Dredge vessels also collect sediment elements to help with environmental projects, such as replenishing sand on beaches.
Working on a dredge is just as dangerous as other maritime occupations. Dredge workers work with sharp, dangerous equipment and face inclement weather. Dredge workers may suffer from a number of injuries including hand injuries due to defective equipment and lack of safety procedures and operations on the vessel. To recover damages for your injury, you must prove negligence under the Jones Act or unseaworthiness under general maritime law. To show negligence or unseaworthiness, it is important to hire a maritime attorney.
If an injury occurs at sea, a dredge worker may be entitled to maintenance and cure from his employers. This money is to pay the dredge worker's medical expenses and then pay a daily stipend for them on land which is in place of the room and board they receive while working on the vessel. Additionally, injured seamen can recover damages for past and future lost wages, past and future pain and suffering, and medical treatment and bills. However, the law can be confusing and it is important that you consult a Jones Act attorney to advise you of your rights.
We Can Help You
Even if you are injured on a dredge in waters outside of New England, our maritime attorneys can help. Contact the maritime trial lawyers at Latti & Anderson LLP and let us review your case and advise you of your rights. We represent clients across the nation.