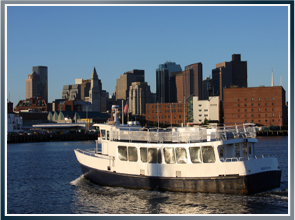 Help From Maritime Attorneys
Massachusetts and New England are a seafaring region. For many years, locals and tourists alike have used the many ferries and whale watch boats in the New England area. The maritime attorneys at Latti & Anderson LLP, represent both crew members and passengers who suffered injuries on ferries and whale watches that operate between the mainland, the islands and the New England coast. We have handled claims against a number of ferry operators, including Woods Hole, Martha´s Vineyard and Nantucket Steamship Authority, Boston Harbor Cruises, Hy Line Cruises and Maine State Ferries.
Passenger Injuries
Ferries and whale watches operate in crowded waters and rough and poor weather conditions, making the potential for accidents high. Our maritime trial lawyers have represented passengers who have been hurt in vehicle collisions on board due to human error on the part of both captains and crew members. We have also represented passengers injured while boarding or departing the craft, falling on slippery decks, stairs or ladders. Through investigation, we have successfully proven that owner and operator negligence has caused ferry accidents and injuries.
Ferry Worker Injuries
Between passenger traffic, adverse weather and ferries with faulty equipment, ferry workers face a high risk of maritime injury. Fortunately, injured ferry workers are entitled to protection of the Jones Act and unseaworthiness under general maritime law. If you suffered an injury while working on a ferry, it is important to contact an experienced Jones Act lawyer to see what federal maritime laws might apply.
We Can Help
Our maritime trial lawyers have obtained payment for medical bills, past and future pain and suffering, past and future lost wages, impairment of earning capacity and other costs related to ferry accidents.
The maritime and Jones Act attorneys at Latti & Anderson LLP have more than 50 years of experience with maritime law. Whether you are a ferry worker needing assistance obtaining maintenance and cure or fighting a Petition for Limitation of Liability or a ferry or whale watch passenger who suffered serious injuries, we can help you. Contact our maritime trial lawyers us today to tell us your story – we represent clients nationwide.