Shipyard, Dock and Pier Accidents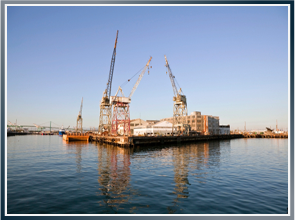 Our Maritime Trial Lawyers Can Help
As an onshore maritime worker, you deal with multitude of hazards to do your job. Accidents and injuries are a regular occurrence. When an accident does occur, there are laws in place to protect you. When hurt on the job, our experienced maritime trial lawyers can help you use the Longshore Act, or any other applicable law, to get you the compensation necessary to move on with your life. Maritime workers who work on shore have the benefit of multiple state and federal laws to provide them compensation for injuries they suffer on the job, from state workers compensation laws to federal laws such as the Longshore Harbor Workers Compensation Act and the Jones Act. Our maritime attorneys have the skills and experience to get onshore workers the maximum compensation available.
The Longshore Act
The Longshore Harbor Workers Compensation Act is a federal law created to protect onshore maritime workers when accidents occur in onshore maritime work environments. The LHWCA, also known as the Longshore Act, is a federal law that provides replacement income, payment for medical expenses, and medical treatment after an on-the-job injury.
One of the most important things to remember about the Longshore Act is that it requires the injured party act within one year of the accident that caused the injury. This means you must act quickly to secure legal counsel and begin your case, preferably right after you are injured.
Laws like the Jones Act and state worker's compensation can cover onshore maritime workers in special situations, though this is less common.
The best way to determine your status is to consult with a lawyer familiar with admiralty law. Having an attorney who understands the different requirements of these laws can mean the difference between having a claim delayed or denied and receiving full and fair compensation in a timely way.
Helping All Onshore Maritime Workers
We have secured compensation for a variety of onshore maritime workers under the Longshore Act. Our clients have included:
Harbor workers
Crane operators
Stevedores
Shipbuilders
If you have been injured in a mishap while working in a dry dock, suffered a crane accident while unloading a container ship or hurt while employed in the shipbuilding industry, you could be entitled to compensation.
Experienced Help
At the law firm of Latti & Anderson LLP, our attorneys have been helping injured maritime workers on sea and on land for more than 50 years. We understand the various laws under which employees can obtain payment for their injuries. Contact our maritime attorneys to determine what laws apply to you and to begin the process of getting the money you need to move on with your life. We represent clients across New England and nationwide.