Was Your Hand Injured At Sea?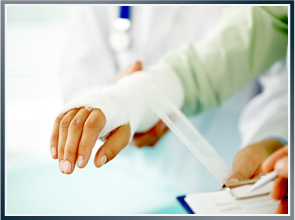 Our Maritime Attorneys Will Make Your Case Hold Water
Fishermen, seamen and ship workers work every day with winches, blocks, capstans and pulleys, but an injury to any one of the 27 bones in a worker´s hand could affect how he performs everyday jobs. If a maritime worker´s hand becomes entangled with a moving line, crushed by cargo or caught in a piece of equipment, the effects can involve career-ending consequences such as amputation.Passengers can also suffer hand injuries on a vessel, such as if the passenger´s hand is caught between a line during docking, in a piece of equipment or between a vessel and a dock, also risking significant permanent damage and amputation
What Type Of Hand Injury Did You Suffer?
If you are unable to work because of a hand injury, a maritime attorney at Latti & Anderson LLP can help you collect damages to which you may be entitled. Our maritime and Jones Act lawyers have represented clients with such hand injuries as:
Finger and hand amputation
Severed tendon
Severe laceration
Crushed finger or hand
Deep cut or laceration
Broken wrist
Triangular Fibrocartilage Complex (TFCC)
Carpal tunnel syndrome
Crush injuries
Complex Regional Pain Syndrome (RSD)
Neuropathic pain
Who is at Fault
In many hand injury cases, the insurance company for the boat owner, the boat operator or the employer will try to say the accident was the victim's fault – that the victim put his or her hand where it was not supposed to be and that the owner, operator or employer did nothing wrong. It is important that you hire an attorney to prove that the accident was not your fault, but was in fact caused by negligence or the vessel's unseaworthiness. Latti & Anderson LLP has successfully shown hand injuries as a result of:
Unseaworthy vessels and defective equipment
Failure to have a proper guard on equipment
Failure to have proper safety equipment on the vessel
Lack of established procedure for operating equipment
Failure to warn passengers against placing hands on vessel or cargo
Failure to properly train the crew regarding equipment and line handling
Failure of another party to properly operate the equipment
Damages to Which You are Entitled
In a hand injury, particularly an amputation, one of the most significant types of damages you can recover is for physical disfigurement and medical expenses. Some amputees may need medical treatment for the rest of their lives; they may suffer from permanent neuromas and permanent cold intolerance, which hinder the victim's ability to work. They may also need expensive prosthetics or physical therapy. These issues mean the victim could receive money damages for medical expenses, lost wages and future lost wages, including impairment of future earning capacity if the victim cannot return to his or her original job because of the injury. Additionally, hand injury victims can also recover damages for past and future pain and suffering and mental anguish for their injuries.
If your hand was injured while you were aboard any ship or boat, our maritime attorneys can help can help you collect damages for past and future medical expenses, lost income and wages, and pain and suffering.
Experienced Legal Counsel
Those who are hurt while working aboard a boat or ship need a maritime trial lawyer familiar with admiralty cases. The maritime and Jones Act attorneys at Latti & Anderson LLP have been fighting for the rights of injured maritime workers for nearly a half-century.
The maritime trial lawyers at Latti & Anderson LLP work tirelessly to hold negligent parties accountable. Our firm has secured verdicts and settlements of more than $1 million and we can help you receive the money you deserve. If you are seeking legal representation for a hand injury suffered in a maritime setting, contact our maritime and Jones Act attorneys today – we represent clients nationwide.