Serious Car Accidents Need Serious Injury Lawyers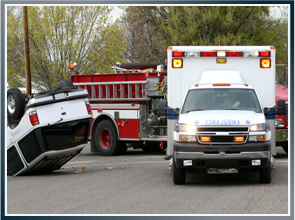 If you have suffered a serious injury in a car accident, it is important to have an experienced
personal injury
lawyer on your side. Recovering money for a
personal injury
case involves dealing with insurance companies and sometimes auto manufacturers, which have teams of attorneys and adjusters at their disposal to help them minimize your claim as much as possible. Even in a no-fault state such as Massachusetts, there are several different ways to obtain payment for your injuries, and the best way to do so is to contact an experienced injury attorney who knows the laws and the courts and can get you the best recovery possible.
Massachusetts streets and highways are crowded, fast and hazardous. In these conditions, motor vehicle accidents are inevitable. Our injury lawyers help victims located nationwide with all types of auto accidents, including:
Rollover accidents
Hit and run accidents
Truck accidents
Drunk driving accidents
Pedestrian accidents
Bicycle accidents
Dram Shop accidents
Car accidents are one of the leading causes of death in the nation, and they kill more children and than any other type of accident. Driver negligence (such as excessive speed, inattention because of texting or talking on a cell phone and drunk driving), defective cars and defective car parts can all cause very serious car crashes that cause very serious injuries, such as traumatic brain injuries, spinal cord injuries and broken bones.
The insurance company, the auto manufacturer or another negligent party will hire the best team of attorneys, experts and accident reconstructionists money can buy. We help our clients level the playing field by providing our own investigators and reconstructionists to build the evidence needed to prevail in your case. Our attorneys, investigator and retained experts have the knowledge and the skill to counter the responsible party head-on.
We also retain life care planners and economic experts as well as medical experts to determine the extent of your injuries and prove to the judge and the jury that you need compensation for lost wages, future wages, past and future medical bills, future medical care, home modifications, medical equipment, physical therapy, past and future pain, suffering and mental anguish that you and your family have endured.
If you or a loved one has been in a car accident and suffered serious injuries, contact the attorneys at Latti & Anderson LLP today. Our advice is free, and you pay nothing unless we recover money for you. Call right away to make sure you protect your rights and find justice.