New Jersey Tugboat Crewmen Tragedy Occurs at an Oil Depot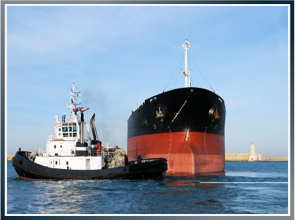 Last October, a crewmember of a tugboat fell from a barge ladder and into the water at an oil depot in New Jersey. The 55-year-old's body was recovered the following day by police divers. The Coast Guard is still investigating to determine if the death was caused by negligence.
So far, the investigation has shown the 59-foot tugboat had just finished towing the 195-foot 11,300-barrel boat. The tankerman descended from one of the empty barges to get onto the pier. According to a witness who was standing on the pier, but was not in close proximity, the crewmember slipped. He fell approximately 10 feet into the water because the ladder shifted. The witness ran to throw the crewmember a life ring, but by the time he reached the edge of the peer, the crewmember was nowhere to be seen.
Tankerman's Death Might Be Caused by Negligence
The main question authorities have about this tragedy is whether the tankerman's death was caused by the ladder being slippery or loose due to a lack of maintenance. The witness saw the ladder shift, which originally raised questions about the tugboat's maintenance. As is, the operator of the vessel is responsible for maintaining all equipment on the boat. Moreover, the operator must make flotation devices available to all crewmembers. If the ladder indeed shifted because it was loose, the company who owns the tugboat and employs the crew is liable for damages.
However, in order for the family of this victim (or any other victim of maritime death for that matter) to receive compensation for these damages, the family must be able to prove negligence existed. In this case, the family must be able to prove the ladder was loose, not properly maintained, not positioned properly or procedures and operations were not followed. Maritime attorneys, such as the attorneys at Latti & Anderson LLP, typically hire investigators to establish negligence in these types of cases.
If a Loved One Dies at Sea, Contact a Maritime Attorney
If the worst has happened and you lost a loved one at sea, you should immediately contact a maritime attorney. Many laws can apply, depending on the circumstance. Whether it's the Jones Act, the Longshore Act or the Death of the High Seas Act (DOSHA), each of these laws affect families differently and have different requirements of eligibility. Experience matters in these cases. Contact a maritime trial lawyer to assess what rights you have in the situation.
Latti & Anderson LLP is a maritime injury law firm that represents families of victims who have lost their lives at sea.
Source: http://www.professionalmariner.com/February-2016/Tankerman-slips-off-ladder-while-descending-barge-drowns-at-NJ-pier/