Could a Buoy Fall on Me While I'm Working on a Barge?
Could a Buoy Fall on Me While I'm Working on a Barge?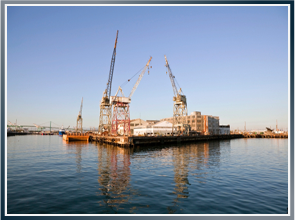 Buoys are markers used to aid in maritime navigation, according to the United States Coast Guard. A 13th century manuscript, La Compasso de Navigare, contains the earliest recorded mention of a buoy, describing those used to help seamen as they arrived in Seville, Spain. Since then, buoys have flourished, becoming a staple of maritime navigation.
Buoys vary in size depending on what they are used for, such as the monster buoy, which can be as big as 40 feet in diameter and is used in areas where powerful currents would limit the visibility of smaller buoys.
Tragically, a recent report in West Hawaii Today revealed an accident involving a buoy that claimed the lives of two men working on a barge and injured two others. The incident took place at Pearl Harbor, where the four men were part of a group of civilian contractors working for Healy Tibbitts Builders Inc., a marine construction contractor.
Reportedly, while the men were working on the barge at the Naval Inactive Ship Maintenance Facility, the buoy, which weighed five tons, fell, causing the fatal accident. One of the men who was killed was the father of a 9-year-old boy.
Multiple investigations concerning the incident were ongoing at the time of this report.
Lawyers That Handle Barge Accidents
To learn more about barge accidents and how a maritime trial lawyer can help you if you have been injured or if a family member was killed in an on-the-water accident, call us today to schedule a no-cost, confidential meeting with an experienced maritime attorney.
Latti's Little Extra: The US Congress passed an act for the establishment of lighthouses, beacons, public piers and buoys on August 7, 1789, according to the US Coast Guard.
Latti & Anderson LLP – Nationwide Maritime Attorneys