Three Bodies Recovered after Chicago Boating Accident
Search crews have found the body of a third man who fell into Chicago's Cal-Sag channel after their vessel collided with a barge. The channel is primarily used by barge traffic and as a conduit for wastewater, but is also used by pleasure crafts in the summer time.
Last month, a 19-foot pleasure craft collided with a 66-foot commercial towing vessel hauling six barges. The smaller boat capsized, and at least three people went into the water.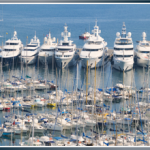 The captain of the barge immediately notified the U.S. Coast Guard and sounded a general alarm to gather all crew on deck to look for survivors. Two bodies were found the next morning, but the third body did not turn up until several days later.
Authorities said the boaters had been at an area restaurant before the collision. Autopsies revealed the three men died of drowning and multiple injuries after the collision. Their deaths were ruled accidental. There has been no indication of whether alcohol or drugs played a part in the incident.
How Can I Stay Safe While Enjoying My Boat This Summer?
Unfortunate accidents like this illustrate the need for increased safety training for all boaters. If you are able to attend one, many communities offer free or low-cost boating safety courses. Otherwise, try to keep in mind a few summer boating safety tips.
Wear life jackets at all times on the water.
Never operate a vessel while using drugs or alcohol.
Inspect your vessel to verify it is in safe, working order.
To learn more about preventing recreational boating accidents or to discuss your situation with a qualified attorney, call our office today to schedule a free consultation.
Latti & Anderson LLP – Nationwide Maritime Attorneys
Source: http://chicago.cbslocal.com/2014/06/23/third-body-recovered-after-cal-sag-boating-accident/