Boater Loses His Life When He Collides With a Ferry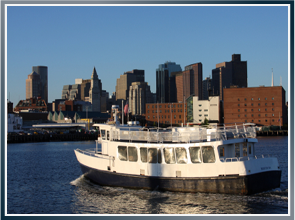 The Quebec River near Laval is often occupied by a 48-foot cable ferry that uses the current to navigate across the river. Last year, a pleasure craft caused a boating accident when it crashed into this ferry, and a young man lost his life and several other passengers sustained injuries.
According to the report, there were nine passengers aboard the pleasure craft. Of those, four of them were thrown overboard the boat and into the exterior of the ferry. Three of these boat accident victims swam to shore on their own. Those who remained on the boat received various injuries from the impact and had to stay on the boat until the ferry docked, as the boat was lodged in the ferry's loading ramp.
Witnesses who saw the accident say the boat was traveling at a very fast speed when it slammed into the ferry. The impact was great enough to fling a 23-year-old man into the air, across the ferry's deck and into the water on the opposite side of the ferry. He never resurfaced, and his body was found four days after the accident.
If More Speed Restrictions Were In Place, Fewer Boating Accidents Would Occur
Investigators are still trying to determine the cause of the ferry accident. It is possible the pleasure craft operator was intoxicated or that there was a mechanical error. The investigation agency is trying to determine what speeds each vessel was traveling at prior to the accident. As it is, there are no speed restrictions in that particular area.
Had there been speed restrictions and better enforcement in the area, it is likely this tragedy would not have occurred.
https://www.youtube.com/watch?v=UPEh426_kCo
As maritime injury attorney Carolyn Latti explains, Latti & Anderson LLP is a maritime injury firm that helps not only workers, but passengers on recreational boats as well. If you or someone you love has been injured on a passenger boat, ferryboat or any type of vessel, it is important to contact an experienced maritime attorney to assess your rights in the situation and review your best options.
Carolyn Latti is a maritime injury attorney who fights for victims nationwide who have sustained an injury at sea.
Source: http://www.professionalmariner.com/December-January-2016/Boater-killed-in-collision-with-Quebec-ferry/