Maritime and Personal Injury Law Firm of Latti & Anderson LLP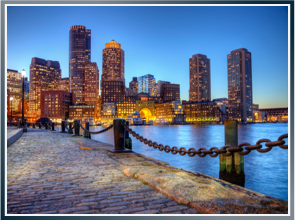 Representing On and Offshore Accident Victims and Their Families Nationwide
At the maritime injury law firm of Latti & Anderson LLP in Boston and New Bedford, our lawyers represent injured clients from New England, across the East Coast, West Coast and around the country. Through special motions (pro hac vice) and teaming up with local counsel, we can appear almost anywhere and have on behalf of our clients.
Our injury law firm boasts one of the few Plaintiff's Maritime Attorneys on the East Coast, Carolyn Latti. She and attorney David Anderson, her brother-in-law, form a powerful legal team dedicated to getting results for clients.
Top Admiralty Lawyers for Offshore Accidents and On Land Injuries
For more than 50 years, the maritime injury law firm of Latti & Anderson LLP has been helping those hurt at sea as well as on land. When attorney Michael Latti started the maritime law firm in Boston decades ago, he did so with a mission to help injured merchant seamen, longshoremen, ship passengers, crew members, boaters and commercial fishermen as well as people hurt on land. His daughter, maritime attorney Carolyn Latti, continues this legacy today with her law partner, attorney David Anderson.
One of the Few Plaintiff's Maritime Attorneys on the East Coast
Staffed by a team of seasoned maritime injury and maritime trial lawyers, competent support staff and a full-time investigator, Latti & Anderson LLP is the premier injury law firm for maritime law and personal injury cases on the East Coast. Early on in her career, Carolyn received the recognition as a Massachusetts Lawyer of the Year in 2001. Her knowledge and experience in maritime law has only grown since then. Our maritime injury firm is dedicated to helping injured victims and their families on every coast in the United States and at ports all over the world.
We are active in the legal community and have obtained millions of dollars in compensation on behalf of our clients and their families. This is because we take the time to get to know our clients and care about what has happened to them. Our lawyers explain your best options under admiralty law. Additionally, we make sure you take care of yourself and your families after a devastating offshore accident, injury or death.
Respected Jones Act Lawyers and Authorities on Maritime Law
Our maritime injury law firm thoroughly understands maritime and admiralty law. Thus, we can explain the law to you and make sure to properly apply it to your case. Attorneys who deal with only injuries on land are not familiar with the complexities of federal maritime law. As a result, if a novice or someone unfamiliar with maritime law handles a maritime accident case, he or she can easily make mistakes that can cost you fair compensation.
Our Jones Act lawyers know maritime laws backward and forward, including:
We have the resources and experience to properly investigate the maritime accident. Additionally, we can find the right experts to convince the judge and jury that you deserve compensation.
Get the Legal Representation You Need After an Offshore Accident or Personal Injury
Contact us today to meet our admiralty lawyers and staff to discuss your case. If you suffered a serious injury on land or while working offshore in an accident at sea, we are ready to help you obtain the compensation to which you deserve. Call now and set up an appointment. We will then review your injury case free of charge.
In the majority of maritime accident and offshore injury cases, we operate on a contingent fee agreement. This means we only collect a fee if we recover money for you through a settlement or judgment. If we do not recover anything for you in a contingent fee case, you do not then owe Latti & Anderson LLP anything.
We also accept cases by attorney referral. Many lawyers throughout New England and the United States refer their offshore accident clients to us when they need a qualified maritime attorney. We abide by professional rules of conduct relating to referrals. Thus, we invite our colleagues to call us to discuss our referral fee arrangements.